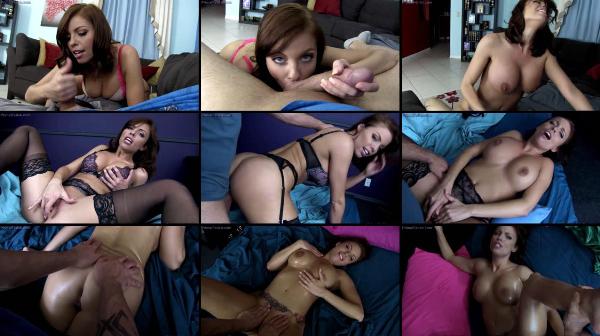 Britney Amber – My Mom Only Wants Me PART 1 – Mom Stays In
(Mom is about to go out but sees her son on the couch, sad. She asks him why and decides she should just stay home and hang out with her son. She takes her dress off, hangs out on the couch, and gives him a handjob, a blowjob, a titjob(?) then sex.)
My mom is heading out for happy hour, but she sees me laying around feeling down. She wonders why I am not out with on a date, but the truth is, I would rather be home with her. I don't want her to feel bad, so I don't say anything. But mom has always been able to tell what I need, and the way she sees me looking at her tells her that maybe I can give her what she needs. She doesn't need to go out to get the attention she deserves. I am so nervous when she starts to show herself off, enjoying the way my eyes are glued to her. She comes over to me, and, well, I am glad we both decided to skip going out.
Britney Amber – My Mom Only Wants Me PART 2 – Mom Teaches Me Control
(Mom enters the room and says she wants to help her son by teaching him some things about sex. The son eats her mom out, before fucking her from behind. He then cums on her tits.)
I can't stop thinking about the other night. I have been hard almost all day, every day, no matter how many times I jack off. My mom catches me. She knows what's been going on. And she doesn't just want to help take care of my 24/7 boner, she wants to teach me to hold my load longer, so I can give her more of what she needs. She teases and edges me before using my cock to cum over and over. Finally she wants to me to cover her with my huge built-up load.
Britney Amber – My Mom Only Wants Me PART 3 – My Special Night with Mom
(Son gives her mom a massage. He starts rubbing her ass, and then turns her over and fingers her. After she cums, she asks to be fucked. Son fucks her mom in multiple positions. The mom lays her son on his back and gets on her knees and sucks him till he cums in her mouth.)
My mom is continuing to teach me how to give her what she needs, how to totally turn her on and satisfy her. She leads me in to the bedroom so I can massage her amazing body. God my mom is GORGEOUS! I try to take my time, but she feels so good! She starts wanting it as badly as I want it. I am getting better and better at fucking her and now she needs it as much as I do.