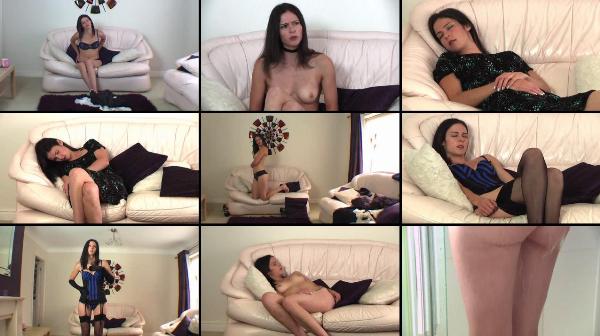 An unexpectedly awesome shoot with a real life ladyfriend who wanted to see for herself if she'd be a good subject for my style of training. So was she any good?
In short… Yep!
In long!? Yesssssssssssssssssssssssss!
This was Ziva's first time doing anything video / mesmerism / kink related, so I wasn't sure what to expect up front. What I *got* was an amazingly receptive subject who's warm-up trance turned into her stripping more or less naked within the first 10 minutes. Usually the intro comes first, but in this video, we didn't get around to doing an actual introduction till the 25 minute mark.
As she's never seen it done before, Ziva's responses were a little unconventional in places and even took me by surprise. I'd simply suggest feeling extroverted, and she'd immediately wake and start undressing, or inversely, I'd suggest feeling shy, and whilst she'd been content to lounge topless a few moments earlier, she'd not even wait for a wake up command before bolting upright and trying to find something to cover her embarrassment with.
This shoot features an outdoor aerobics scene, a shower scene with some nice freezes and lots of shots of Ziva's rather fine butt.
Category: FEMALE TRAINING
Related Categories: WOMAN FOLLOWING ORDERS, MESMERIZE, SKINNY WOMEN, PUBLIC NUDITY, EROTIC MAGIC