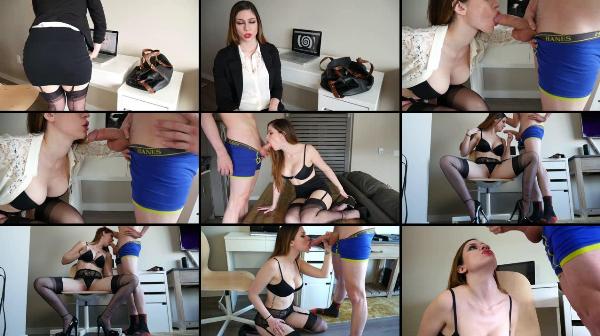 Hardcore Hypno-Robo – Ashley Alban – Training Your Secretary
Fetish Princess Ashley Alban is so sexy in her in her "Hypno-Robo Female Training" clips. This brunette goddess is always gorgeous as she wears a business suit, high heels, sexy revealing black nylons, garter and lingerie that shows off her ample cleavage, large tits, perfect legs, perfect feet, and her sexy round firm ass. She role plays a secretary who is hypnotized by her boss, and gives him a blow job and fucks him before he gives her a facial. When she wakes up she does not know what happened.
Ashley Alban says:
"Your secretary comes into the office, wearing a sexy little outfit. She is such a tease. She adjusts her blouse, and then puts her legs up on her desk to pull up her stockings and show off her legs. When she pulls out her make up to touch up her lipstick, you decide that you cant take it anymore. You send her a special video to her email, and you tell her to get to work and check her messages. She opens up her email and sees your message. When the video plays, it mesmerizes her. She sits with her mouth slightly agape. She turns to you and calls you Master, saying that she is yours to command.
You walk over and test out your new toy. You make her stand and move her around like a mannequin. You have her rub your dick, and once it is hard, you slowly slide it deep into her mouth. You fuck her face. Whenever you want her to change positions, you use a remote control to move her. You like your secretary so much better like this. What does she expect when she teases you so much in the office? When you're ready to cum, you have her get to her knees. You jack off all over her lips and after, you tell her to get dressed. Once shes fully dressed and sitting at her desk, the effects of the video wear off and she wipes the cum off her lips wondering what just happened."