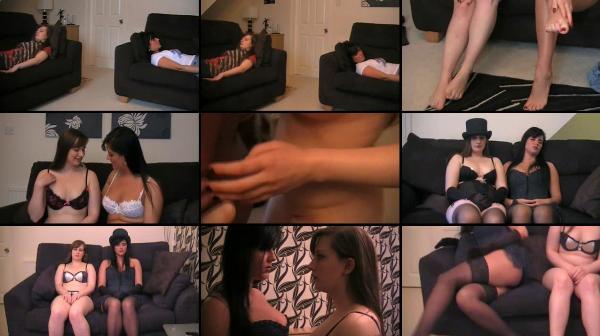 Wow, this was an amazingly hot shoot, we're not talking "legs wide, everything on show" but we *are* talking gorgeous girls, in very deep trances, with really good responses whilst in trance, involved in some very fun situations and steamy scenes.
Working with Michelle and Steph was an absolute pleasure, Michelle had been under once before in a stage show, and had woken up with no memory of events, so I was pretty sure she'd be a good subject. Steph was a -virgin, but seemed very excited about trying it out. I was *very* happy to find that after a few minutes of trance, I was able to give the both of them amnesia when it came to recalling their names. This is a suggestion I'll sometimes reserve for later, as it takes a deeper level of trance than some of the other suggestions I give.
The shoot only got better from there.
In this first half, highlights include having the girls believing that they're friends one minute, and lesbian lovers the next, convincing them that any body part I name becomes their "best feature", and having them mess around and play with one another whilst naked in trance. There are also a couple of foot scenes for the foot fans.
The second half of our shoot with Michelle and Steph, once again, some really hot scenes, and a couple of first time suggestions for our studio. We open with the girls in new outfits, as the girls apply makeup mindlessly in the mirror, slowly becoming more and more entranced by their own reflections. The girls look gorgeous in their second outfits, Steph in her vintage underwear, stockings and heels and Michelle in her corset, elbow gloves, stockings, heels (and later top hat) looks the epitome of the 's Glamorous Assistant.
We have some nice moments with each girls smiling blankly as dolls on command. Steph's got some experience as a burlesque dancer, and was more than happy to put on a show for us while we had Michelle sat helplessly in bondage, trying to fight and free herself, but growing more captivated with Steph all the time, and more enchanted with her the more steph undressed.
Then both girls took it in turns to become the Mistress, using a pendant to enchant and enslave the other girl, before telling her just how she should behave in her Mistress's presence. Michelle was more than happy to become Steph's kitten for a time, and proved very playful, and then both girls got to experience the laser pointer, which varied between arousing them, and tickling them both. Both girls got to use it on the other girl as well.
When we were just about done, I put both girls into a deep trance, and talked to them both about the shoot, about what they enjoyed, and what they'd like to do in future. Michelle in particular's got a *very* sweet soft voice when she's in trance. Most of the closing interview took place there, but as always, I woke them up feeling wonderful, with full recall of their session for a closing chat outside of trance.Category: FEMALE TRAINING
Related Categories: LEGS, FOOT FETISH, ROBOTS, LESBIAN, STRIP TEASE, ROBOTS, BONDAGE, VINTAGE