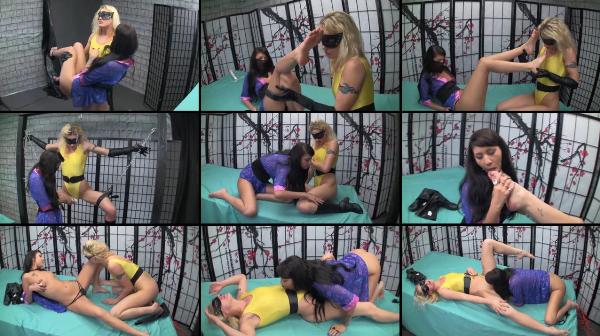 The Mighty Hornet has cornered the crime lord known as the Mandarin. the far east felon doesn't surrender and uses one of her ten power rings to blast Hornet with a bolt of lightning. Hornet is stunned but doesn't stay down for long and soon she has her opponent by the neck and is all set to punch Mandarin's lights out when she notices that the villainess is laughing. it was all a plan to get Hornet close enough to use her mind control ring!!
Now Hornet's eyes are rolling up in her head as she falls under Mandarin's controls. First Hornet is make to flex her very impressive muscles and hold still while Mandarin rakes her sharp nails over Hornet's skin and let her dig them into her muscles as she flexes. Mandarin enjoys this and takes her time mocking her helpless adversary.
Next She commands Hornet to pick her up and slowly circle so she can look over her lair. Now Mandarin is ready for really having her way. She makes Hornet worship her shoes and then take them off and worship her beautiful bare feet.
Mandarin is now aroused and moves in to kiss Mighty Hornet but the superheroine begins to resist so Mandarin overwhelms her again with her Mind Control ring.
Hornet is suspended and Mandarin forces her to cum repeatedly until he will is totally broken and she is willingly obedient to her desires.
Category: SUPERHEROINES
Related Categories: FOOT WORSHIP, MUSCULAR WOMEN, FORCED ORGASMS, LIFT & CARRY, DOMINATION