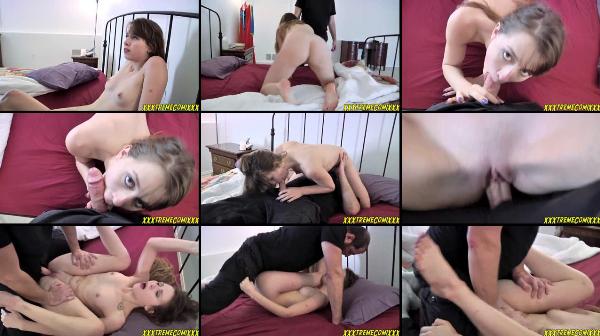 STARRING: Zoey Laine and Rock
Supergirl is settling in for the night, hanging her costume with care. She slips into bed, naked, her soft skin absorbing all the comforts of a thick comfortable blanket. As she becomes enthralled with sleep a mysterious stranger enters, waking her. His hands flex and she is frozen, his mind controlling her every move. He orders her to her knees, her head on the bed, her hands slapping her ass. He makes her grab her tits, holding them tight.
She rolls onto her back and begins rubbing her clit. She is totally under his control and they are going to have a little fun. He orders her to finger herself until she cums, but she is not allowed to speak. She writhes with pleasure as an orgasm washes over her, her mouth open but unable to emit. She gets on her knees and continues to play with herself until she is told to worship his cock. She gives it a kiss, caressing it softly, before taking it in her mouth and bringing his cock to attention. She mounts his face, he tongue attacked her clit as she dives deep onto his cock.
She rides him in reverse, squeezing her nipples at the same time as he pounds her hard and deep for some time. He puts her on her back and slams her pussy, her throat unable to emit any sound of pleasure. She hold her ankles as he gets a better angle, pushing the bed further and further back with each thrust, his cock driving her crazy.
She grips his legs and pushes him deeper as he makes her cum hard, her eyes fluttering, no sound escaping. He continues fucking her until he cums on her chest. He puts her back to sleep, perhaps he will come back later and use her again.