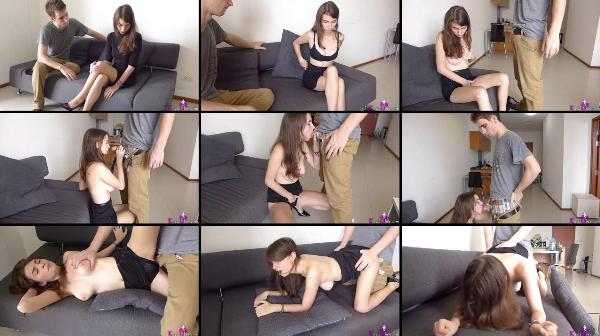 Kayla's Eternal Dream – Business Partner Blackmails & Fucks Shy Wife
Brunette clip star Kayla is always gorgeous as she plays a shy wife who is home alone with her husband's friend. She is sitting on the couch talking to his hot friend wearing sexy office dress, bra, panties and high.heels that shows off her large natural tits, long legs, and her firm ass. Her beauty makes him tell her he is going to ruin her husband's business. She is so shy, and she reluctantly gives him a blow job while she masturbates; she gets so horny she forgets her husband and she fucks him with her panties still on until he blows his cum all over her clothes.
Kayla says:
"Kayla's husband's business partner tells Kayla he has some bad news. Her husband's business is doing poorly and he'll have to withdraw his funding…unless they can come to some sort of agreement. She is appalled by his lewd suggestion, and pushes his hand away each time he reaches for her leg. She is not that kind of woman. He tells Kayla that he fantasizes about watching her masturbate. She is disgusted. If she lets him watch, he won't withdraw his funding from her husband's soon to be bankrupt business….she reluctantly agrees.
She slowly starts to rub her breasts…he tells her to remove her top and place her hand in her bra. He gives her a drink that drugz her, and lets her relax. After playing with her bare tits she slowly slides her hand up her skirt..almost as if teasing him, but with a vacant expression. She rubs herself through her panties…he places her hand on the bulge in his trousers.
When his cock is exposed, she looks surprised. He asked if the rumors he's heard are true..about her husband being a poor lover. To her embarrassment, she admits her husband has a very tiny penis and cums too soon.
She lamely tries to stop him, as he penetrates her. She moans out in pleasure, about how much bigger he is than her husband. How much better he can satisfy her than her husband, his amazing abilities. Until she orgasms and he cums all over her panties."