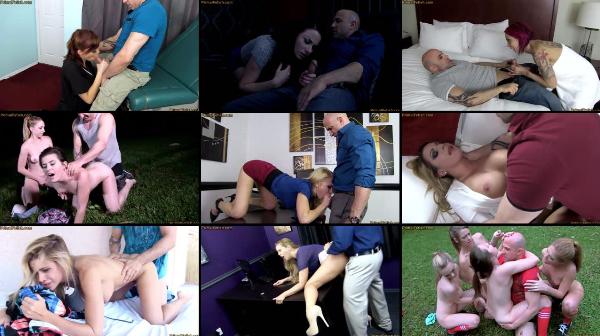 A drop of this on your pecker and she'll be overcome with an immediate devotion to your cock! She'll take your load and she'll thank you for it!
Michael Masters meets disinterested woman after disinterested woman, only to magically enrapture every one of them after placing a tiny droplet of liquid sex-crack on his wang. Before you can blink, they become cock-starved nymphomaniacs with no loyalties or preoccupations except to make. that. dick. cum.
10 scenes, 14 women.
Part 1: Aidra Fox – Bartender at Closing time
Masters buys a drink, drips on his dingus, and bones Aidra Fox right there on the bar.
Part 2: Britney Amber – Too hot to be a Doctor
Britney is giving Masters a check-up and rebuffing his advances. Drip on the wang. Fucking in the exam room.
Part 3: Veruca James – Just Friends.
Two platonic friends enjoying a movie out. Drip on the wang. Fucking in the theater.
Part 4: Anna Bell Peaks – Hotel Encounter
Going up? (Drip on the wang) Going down! Going all the way!
Part 5: Two Bitchy Young Girls
Masters is out at night in the Everglades or whatever, pretending to look for his lost dog. A couple of Florida sluts DGAF. Drip on the wang. Now he's got two bitches; three if he ever finds his dog.
Part 6: Alix Lynx – Being a Bitch for No Reason
A chance meeting in an office leaves Masters of a mind to teach Alix Lynx a lesson. Drip on the wang. Now she knows how to get cum out of a dick.
Part 7: Brooklyn Chase – Snobby Real Estate Agent
She won't get off the damn phone! Drip on the wang. She gets off on the damn phone.
Part 8: Jessa Rhodes – Trophy Wife Neighbor
Sunbathing neighbor doesn't appreciate being spied on. Drip on the wang. She appreciates being jizzed on.
Part 9: Cherie Deville – Mean Loan Officer
No you can't have a loan! Drip on the wang. Sure you can have a bone.
Part 10: A Soccer Team
Can we play on this field? No? Drip on the wang. Masters plows all their fields.