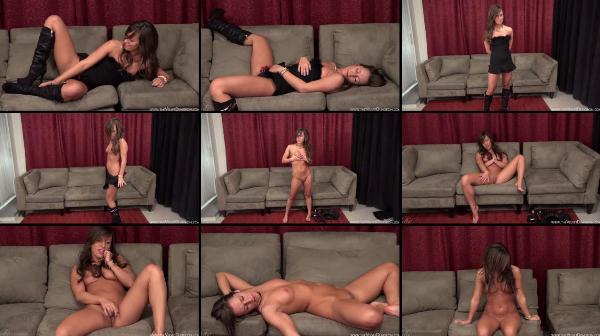 Ally returns again. Eager to be hypnotized and even more eager to wear the gold chain that is making her a hypnotic slave. As soon as she sees it she is desperate to put it on, and I let her.
It immediately affects her taking her to a blissful state and causing pleasure to build inside her. She comes uncontrollably and then falls into a deep trance.
During her trance I build on her "slave collar" programming. I give her a suggestion that will make the collar intensify any sexual sensations and pleasure she feels. I also reinforce the suggestion that makes it impossible for her to take it off without me giving her permission.
I then awake her, and pose her for a couple pictures. Then I command her to strip. Because of the hypnotic programming she has no choice but to obey. I have her remove her dress. Then her underwear.
When she is naked I command her to start touching herself. Her aphrodisiac slave collar makes this very erotic for her. As she gets hornier and hornier I make her rub and finger herself until she has a mighty orgasm. And slides back in to trance.
While she is in trance I give her some commands to reinforce and intensify the power of her magic hypnotic collar. I start creating an addiction for it in her mind, while I also give it more power over her.
Then I awake her. She can't remember the session and is surprised to find herself naked. I let her dress then ask her to hand over the collar. There is some conflict in her programming as her addiction makes her resist, but the power it gives me over her forces her to follow my command.
I have created a strong longing inside her and I expect to be seeing her back again soon.