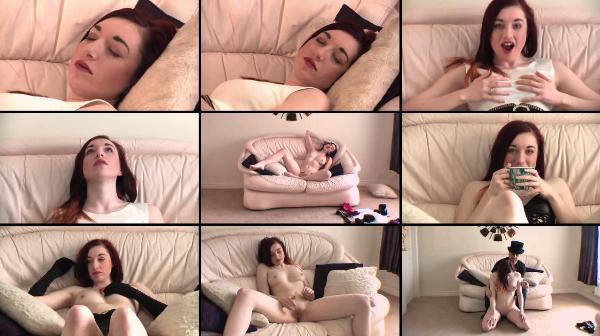 Setina's shoot was really fun. She's naturally very submissive, which led to her calling me "Sir" in trance almost immediately. When asked to picture the perfect place to relax and obey, she pictured a dungeon with a St Andrews Cross that she could be tied to. Bondage is a *big* kink for Setina, and though we didnt break out the actual bondage rope (this time) we did plenty of bondage based hypno-play, complete with mental gag and blindfold. This was pretty awesome, because whilst blindfolded, even with her eyes wide open, Setina couldnt see anything. NICE! 
In amongst the submissiveness, Setina's got a sweet sense of humour, and she's not afraid to feel or look a little silly. (Cue the parrot impressions. :P) Pre-trance, she commented that she'd like to have no idea what was happening, so when she woke up, I did my best to fulfil that request, waking her up with no idea how she got here, or whilst flashing her underoos, or whilst totally naked. You can see at multiple times how embarrassed, baffled or confused she gets.
Very good natured about the whole thing though, and very willing to be transformed into an empty headed plaything.
Later on this one gets *really* sexy (and sexual) with lots of orgasm control (genuine orgasms too!) as Setina has her pleasure turned on and off, is made to masturbate and toy with herself, and then has her brain turned on and off, horny and slutty one moment, mindless and robotic the next. Rowr