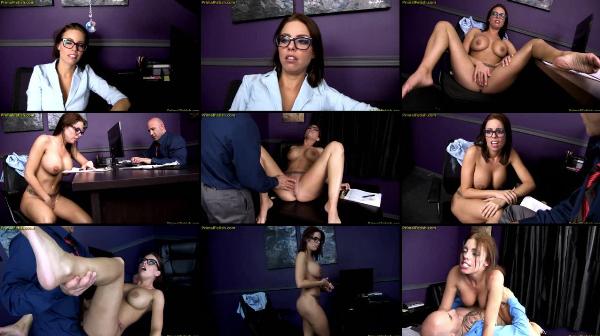 Britney's boss has been making her work late a lot more than seems necessary. It is starting to cause fights with her boyfriend at home. Her boss feels like she should be much more relaxed around him, and enjoy the time they spend working together. He even shows her the beautiful necklace he bought to show his appreciation….Since it is just them, and the building gets so hot after hours Britney's boss suggests she "dress down" and get comfortable.
As they work together Britney's boss comments on her seeming stressed…maybe it is sexual tension, he suggests she masturbate to relieve the issue? Britney loses her temper, but her boss "changes" her mind, which goes blank as she makes herself cum over and over…
As Britney and her boss work together, she finds herself uncontrollably aroused. She secretly tries to satisfy herself without her boss noticing, but he does.
Her boss explains that he can help her with her sexual desperation but she refuses getting angry, until her boss again helps her see things differently, and gives her the mindless orgasms she desperately needs.
However after a bit Britney's boss suggests that what is really wrong is that she is not being fucked properly at home. Now Britney is furious with her boss, but again, she is persuaded and cums while mindlessly being fucked.
Britney now has a totally new way of seeing things. She finds herself comfortably naked every night working after hours with her boss and sees nothing wrong with having her constant sexual need satisfied by him every night.